Brando's Spoon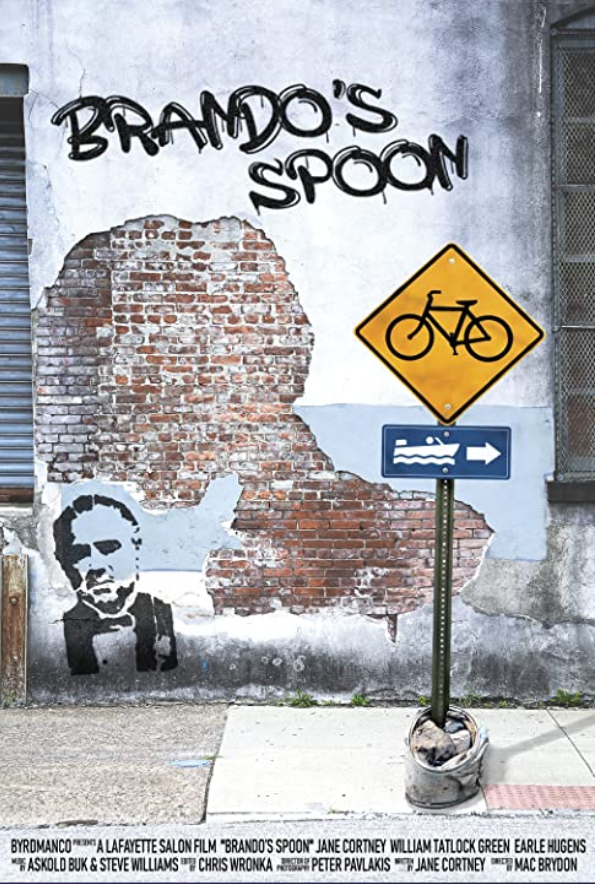 SUMMARY
Two brothers at odds bicycle across New York City in hopes of locating a beloved family heirloom.
DIRECTOR
MAC BRYDON
WRITER
JANE CORTNEY
CAST
EARLE HUGENS as Sky IMDb
WILLIAM TATLOCK GREEN as Brando IMDb
JANE CORTNEY as Lola IMDb Website
CREW
Music by
STEVE WILLIAMS IMDb
Cinematography & Coloring by
Sound by JACOPO MESSINA IMDb
Editing & Sound Mixing by
Poster Art by SHANNON HOHLBEIN IMDb
Costumes by TABBY TWITCH Website
Stunts by LARA IANNI Website
Production Assistant ZACHARY GAMBLE IMDb
RELEASE DATE
18 August 2020
PRODUCER(S)
Lafayette Salon Films
byrdmanco
REVIEWS
TRANSPARENT FILM FESTIVAL
Classic New York story. A nice slice of life that you don't see every day. Nicely done.
Michael DeMasi, OVER FORTY FILM FESTIVAL
Brando's Spoon … was great and the production quality is second to none!!!

LANCE MICCIO
(Writer, Producer, Director, Artist)
The most famous spoon that was not connected to blow.
BLACKBIRD FILM FESTIVAL


Brando's Spoon is a joy to watch! The comedic timing and performances are spot on from EARLE HUGENS and WILLIAM TATLOCK GREEN as they journey across NYC on bicycles, bickering and bonding along the way! This short little film is full of heart and wonderful nods along the way to the late-great Marlon Brando and is certainly a fun-filled ride!
VIDEO CLIPS